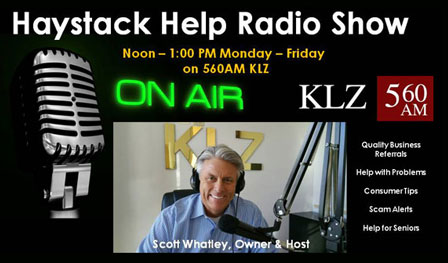 Haystack Help Radio Show on KLZ 560 The Source
Haystack Help Radio airs Monday through Friday at 12:00- 1:00p.m. on KLZ 560 The Source. The Haystack Help Radio Show is a consumer-oriented live call-in show, dedicated to helping consumers with problems, questions and referrals. The show is hosted by Scott Whatley, Vice President of Haystack Help. Our guests have the opportunity to reach Colorado consumers by featuring their products and services during the show. Guest Show Appearances, Tip Segments, Sponsorships and Commercial Spots are available to help promote your business. Only Official Haystack Registered Companies are presented on Haystack Help Radio. Tune in to Haystack Help Radio and you'll have the opportunity to meet the people behind Haystack Help businesses and learn more about the quality products and services they provide.
A Place for Consumers to Go For Help
303-333-HELP (4357) is our telephone hot line to get help. We get directly involved along with our Official Haystack Registered Companies, regulatory agencies and local authorities to solve problems, answer questions, handle complaints and refer great companies to consumers who are looking for the best service in Colorado – we are here to HELP! We know that finding HELP can be like finding a needle in a haystack but with Haystack Help; finding the needle just got a lot easier!
Since January 2009, Haystack Help and www.HaystackHelp.com has been engaging consumers with a trusted source to find the most qualified, reliable and reputable companies in Colorado who pledge to deliver an exceptional customer experience, fair pricing and quality workmanship while generating substantive, measurable results to our Official Haystack Registered Companies.
Call our telephone hot line for help: 303-333-HELP (4357).
Call Host Scott Whatley at 720-201-8585.